Company Overview
The motto of Company
Harmony
Harmony, which is based on the idea that all men are created equal, refers to all members advancing in the same direction through a goal with active discussions having equal and free mindset.

Dongkuk S&C will become a corporation that continuously grows through free and active discussions with equality through its spirit of "Harmony".
Creative
Creativity does not merely refer to new research or development, but also finding reasonable pathway that are newly required and effective.

Dongkuk S&C will be a company that surpasses the era through the efforts and creativity.
Business Philosophy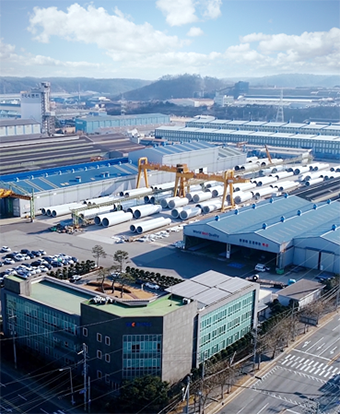 We produce the goods and services needed for the improvement and enhancement of human lives, and, furthermore, contribute to the cultural progress of society.

The specific methods to achieve this objective are decided through the power and foresight of all of the employees of the era according to the changes of time.

Before producing goods and services, our priority is the efforts required by the people who produce such goods and services. For this purpose, it is our principle to allow everyone to have equal opportunities and make equal efforts. In addition, we try to foster and hire skilled employees. All our goods and services must be of high-quality, low in price and have a superior quality.

Therefore, profit is not the sole objective for a company, but we receive appropriate remuneration for our efforts. In other words, the amount of profit is the sense of cost, the superiority of quality, the amount of service, and the measure of our efforts. We always try to improve all products according to time and lead the way in new technological innovation.

We always try to improve every system at all times so that our new technology lead the new era. Although we respect tradition and custom, we do not hesitate to make innovations and improvements in order to improve. In all aspects, competition is the fundamental driving force of development and advancement. Yet, excessive competition leads to a destructive path. Thus, we work hard to ensure cooperation within the company and with other companies.

Management is decided and carried out by gathering the foreknowledge of everybody and we make considerable efforts and remuneration through results should be evenly distributed among employees who have provided the capital which furthermore will be returned to society. The consciousness of management responsibility is clearly divided into two classes, and ultimately, the upper management class ensures all the responsibility.


2023 Management Policy and Practice Guidelines
Market change penetration /
Open innovation with flexible mindset